Gravitas
How to speak with confidence
Caroline Goyder
Present with passion and purpose
Stand out as a calm speaker whatever the situation
Harness the full potential of your body, breath and voice
Tuesday 14 May 2024 | 9:30 am
Zoom
1h 30mins
In order to fully participate in this virtual event, you will need a Zoom account, a webcam and microphone.
Make an enquiry Find out about membership
Communication
Confidence
Influence
Managing yourself
Presentation skills
About Gravitas
"You need more gravitas" is feedback many of us hear as we aspire to leadership positions. Renowned voice teacher and communication expert, Caroline Goyder, can help.
Whether you need to be heard in a meeting with senior colleagues, engage your audience with an important presentation, or have more influence in your daily interactions, this event will help you find your voice. You'll learn how to express yourself clearly, with passion and confidence so others really listen.
Caroline's practical techniques and exercises will build your natural gravitas and empower you to be bold, be present and captivate any audience.
About Caroline Goyder
Caroline Goyder is the founder and creator of The Gravitas Method and author of two books  - Gravitas and Find Your Voice. She worked for many years as a voice teacher at the Central School of Speech and Drama.
Caroline has spent the last ten years developing a system to help her non-acting clients to perform with the same poise, presence and power in everyday life. Her client list is diverse, ranging from CEOs of major companies to TV news anchors. Caroline's TEDx on speaking with confidence has had over 10 million views.
A great session on Gravitas, lots of excellent tips!
Huge thanks for yesterday's session, I'm still buzzing from it and reflecting on how impactful it was for a virtual event.
Thank you, some easy things to implement to make an impact!
Featured Book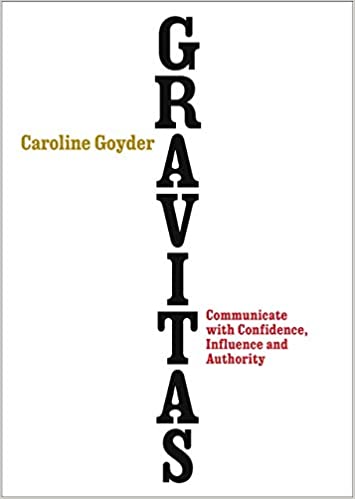 Guests will receive a complimentary copy of Gravitas: Communicate with Confidence, Influence and Authority by Caroline Goyder, published by Vermillion (RRP £12.99).