Brand Purpose Pays
How to drive business growth
David Taylor
Discover why purpose is failing to deliver its full potential
Maximise the power of purpose to drive growth
Explore how to balance product, people and planet
Wednesday 30 March 2022 | 9:30 am
Zoom
1h 30mins
In order to fully participate in this virtual event, you will need a Zoom account, a webcam and microphone. The session will be recorded but will be available only to those who have booked a place on the webinar.
Make an enquiry Find out about membership
About Brand Purpose Pays
This session explores a practical approach to the hot topic of brand purpose. How do you ensure your investment in purpose doesn't just help make the world better, it also helps make your business results better?
This no-nonsense guide starts by revealing research about why purpose is failing to deliver its full potential. Find out the common mistakes, including losing touch with reality and forgetting your core product, and how to avoid them.
Explore how a distinctive, 'brand-led' approach to sustainability of people & planet can help you drive profit. You will learn how to maximise the power of purpose to drive growth, by building it on deep insights into culture, people and brands and then driving your purpose through the whole business. Case studies will include purpose-led brands such as Lego, Ben & Jerry's and Heinz.
About David Taylor
David Taylor was named one of the world's top 50 marketing thinkers by the CIM and is the author of seven acclaimed books on branding.
He is the Founder & Group Managing Partner of the brandgym, a global brand strategy coaching company, and has led brand purpose projects for hundreds of leading companies including ITV, Unilever, AB InBev and Vodafone.
Huge thanks for yesterday's session, I'm still buzzing from it and reflecting on how impactful it was for a virtual event.
Featured Book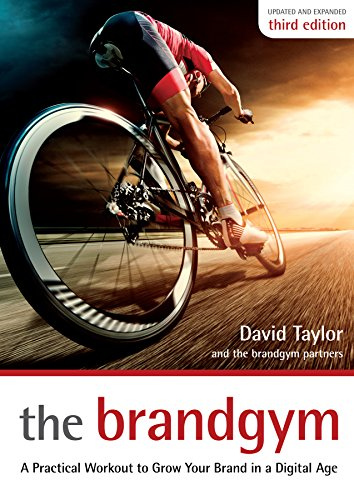 Guests will receive a complimentary of The Brandgym: A Practical Workout for Growing Brands in a Digital Age by David Taylor, published by Red Door Publishing (RRP £19.99).